How the Volvo XC90 Compares to the Audi Q7 and the BMW X5
The Volvo XC90 is the largest model in the Volvo SUV lineup, and famously seats seven passengers within its dynamic interior made only from the most premium of materials. Despite all its excellence, it still faces a fair amount of competition from other large SUVs in its class, such as the Audi Q7 and BMW X5.
Let's explore how these three models compare, and what makes the Volvo XC90 stand out among the rest as the perfect option for Baton Rouge families.
The Volvo XC90 vs. The Audi Q7
Inside the Volvo XC90, you'll find:
Two engine options, the standard four-cylinder direct-injected turbocharged engine capable of 250-horsepower and all-wheel drive. Or, choose the hybrid option, capable of up to 400-horsepower.
An impressive 85.7-cubic-feet of cargo space accessed by a splitting and folding third row.
A suite of technology up front that features a 9-inch touchscreen, digital climate controls and is portrait-oriented for increased readability and ease of use.
Inside the Audi Q7, you can expect:
Two engine options. Your standard 2.0-liter four-cylinder is capable of 248-horsepower, and the upgraded version reaches 329-horsepower. However, there is no hybrid engine option, as there is with the Volvo XC90.
Only 69.9-cubic-feet of cargo space with a splitting and folding third row.
A landscape-oriented infotainment hub that is touchscreen enabled. However, you'll still have analog climate controls.
The Volvo XC60 vs. The BMW X5
Inside the Volvo XC60, expect:
Extremely luxurious details, such as an available crystal Orrefors® shifter knob and Nappa premium leather capable of massage and ventilation.
A Heads-Up Display along with traffic sign recognition to keep you consistently aware of whatever is coming your way. You'll be ready to adjust to the speed and stay safer on the road ahead.
Enjoy a standard subwoofer and 220-watts of uncompromising sound in the Volvo XC90. The whole carload will be thoroughly entertained.
Prairieville drivers will enjoy a standard seven-seater SUV for the entire family at the base model of this SUV. Three spacious rows with copious amounts of passenger space will keep everyone happy on the road ahead.
What you'll find inside the BMW X5:
Leather seating and a luxurious interior, but the seats aren't capable of massage, and you won't find the elegance of a crystal shifting knob.
The BMW X5 also features a Heads-Up Display that will show you your speed and other vital information but omits the traffic sign recognition function.
You can upgrade to get a fantastic sound system in the BMW X5, but the standard model does not come with a subwoofer and starts at only 205-watts of audio power.
To achieve the complete seven-seat capacity, you'll have to upgrade to include a third row. This then cuts into your cargo space and general cabin room for your passengers.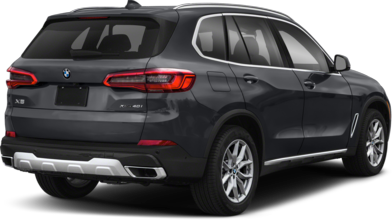 Test Drive the Volvo XC90 near Denham Springs Today
As you can see, the Volvo XC90 is a fantastic seven-seater model that excels in many categories when comparing it to other vehicles in its class. Between the cargo space that never makes you compromise to the detailed technology systems wired throughout this capable machine, you'll be riding in style and safety for many years to come.
Impressed with this long list of features? Experience them in action with a test drive at your local All Star Volvo dealership. We can't wait to assist you in meeting the ideal SUV model that will serve you and your family expertly. We're conveniently located near the Gonzales area. Stop by and see us soon.