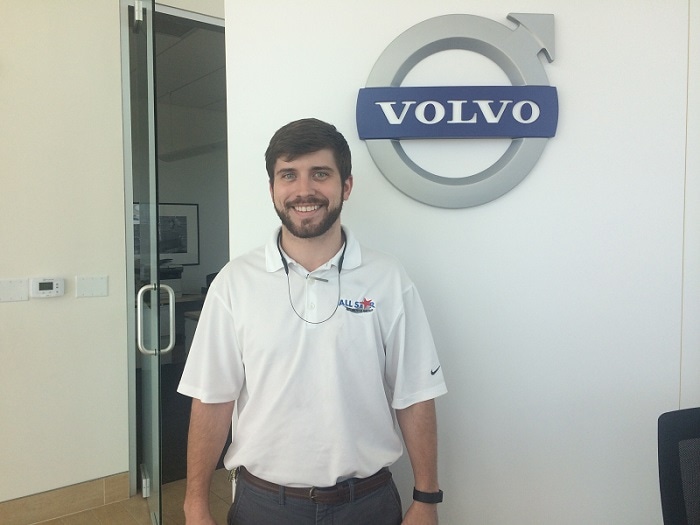 Here at All Star Volvo of Baton Rouge, we love to introduce our All Star Team to the rest of our All Star Family! Meet Tyler Davis! Tyler is the Service Manager at All Star Volvo and has been working at All Star for 1.5 years. Tyler is originally from Covington, LA where he attended high school at St. Paul's School before attending LSU and graduating with a degree in general business.
We asked Tyler to tell us his favorite part of his job at All Star and he replied,
"I like being able to help customers and solve their problems. I also love the people I work with. My coworkers here at All Star Volvo are good people."
When asked what his dream car is, Tyler said,
"A convertible soft-top Chrysler Sebring, the car of the rich and famous."
Tyler and the rest of the Service Team at All Star Volvo of Baton Rouge is ready and able to help with any and all of your service needs. Schedule your next service appointment online here or give them a call at (225) 292-4700.
All Star Volvo of Baton Rouge is a proud member of the All Star Automotive Group, and carries the Volvo line of products; which are some of the most reliable and dependable vehicles in the world. We serve the Baton Rouge and New Orleans areas as well as Denham Springs, Walker, Addis, Central, Baker, Prairieville, Gonzales, Hammond, Port Allen, Plaquemine, White Castle and Lafayette. If you are in the market for a Volvo, come by our Dealership at 10101 Coursey Boulevard in Baton Rouge and experience Sales, Parts and Service that is really All Star!
Let our team at All Star Volvo of Baton Rouge help you out! We have a large selection of new and used cars to choose from. There is something for everyone. Click here to see our inventory!
Our staff is qualified and able to assist you with any vehicle needs, concerns or questions you might have. We assure you that you will not be disappointed in our team! Come on over to All Star Volvo of Baton Rouge to receive All-Star service!