Volvo takes pride in its reputation of reliability and safety and they are continuing to create new and innovative ways to ensure safety with features that support you while driving and features that help prevent accidents and protect you in the event that one occurs.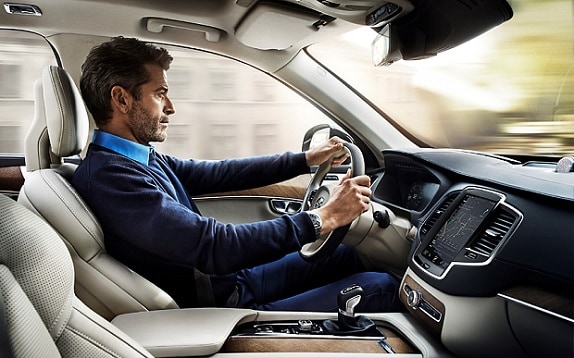 Volvo was the first automotive manufacturer to use the 3-point safety belt, which was introduced by Volvo engineer, Nils Bohlin, in 1959. Since then, it is estimated that over one million lives have been saved as a result of Volvo waiving its patent rights so that everyone could benefit.
Today, through their program, Intellisafe, they provide innovations that redesign automotive safety and provides a simplified driving experience that makes it easier and safer for you to go wherever your Volvo takes you.
Intellisafe features include:
Adaptive Cruising
Adaptive cruise control keeps a set distance between your Volvo and the car in front of you.
360 Degree Camera
Gives you a birds-eye view of your Volvo, so that you can see obstacles at any angle.
Active High Beam
Active High Beam automatically senses other vehicles, pedestrians and cyclists and temporarily switches between low and high beams at night.
Park Assist Pilot
Let your Volvo park for you using Park Assist Pilot. The car steers itself and lets you know when to brake.
Blind Spot Detection
Radar sensors alert you to any car that you may not see and allow you to changes lines with confidence.
Lane Keeping Aid
If your car starts to veer out of its lane, this feature will gently steer you back and send warning vibrations to keep you alert.
Pedestrian/Cyclist Detection
This features detects people walking ahead of your vehicle to help you avoid accidents or if a cyclist swerves in front of your car, a light will warn you and even brake for you should the situation require it.
Forward Collision Warning
Forward Collision Warning scans all objects within 500 feet in front of your car and if an accident is imminent, it warns you and pre-charges the brakes to stop.
With the use of Intellisafe, Volvo strives to provide top-notch safety and that no person will be seriously injured or killed in a new Volvo by 2020.
All Star Volvo of Baton Rouge is a proud member of the All Star Automotive Group, and carries the Volvo line of products; which are some of most reliable and dependable vehicles in the world. We serve the Baton Rouge and New Orleans areas as well as Denham Springs, Walker, Addis, Central, Baker, Prairieville, Gonzales, Hammond, Port Allen, Plaquemine, White Castle and Lafayette. If you are in the market for a Volvo, come by our dealership at 10101 Coursey Blvd in Baton Rouge and experience Sales, Parts and Service that is really All Star!
Let our team at All Star Volvo of Baton Rouge help you out! We have a large selection of new and used cars to choose from. There is something for everyone. Click here to see our entire inventory!
Our staff is qualified and able to assist you with any vehicle needs, concerts or questions you might have. We assure you that you will not be disappointed in our team! Come on over to All Star Volvo of Baton Rouge and receive All Star service!