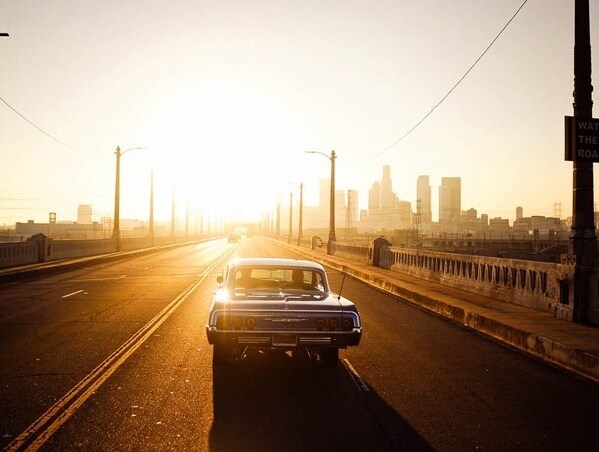 Some things are just better together. Peanut butter and jelly. Bubbles and baths. And of course, cars and music. No matter where you are going, the journey is always better with a soundtrack and we can't think of a better way to spend a summer night than with the windows down and your favorite tunes playing loud. We have compiled a list of the 25 best songs for summer cruising that is so diverse, it will be sure to fit any mood you are in. So grab your keys, roll your windows, crank up the volume and drive off into the summer sunset.
1. "Have Love, Will Travel" by The Sonics
2. "Shut Up and Drive" by Rihanna
3. "Going Back to Cali" by LL Cool J
4. "Mustang Sally" by Wilson Pickett
5. "Hit the Road Jack" by Ray Charles
6. "Jack and Diane" by John Cougar Mellencamp
7. "Everyday is a Winding Road" by Sheryl Crowe
8. "Scar Tissue" by Red Hot Chili Peppers
9. "Fast Car" by Tracy Chapman
10. "Two of Us" by The Beatles
11. "Don't Stop Believin'" by Journey
12. "Born to be Wild" by Steppenwolf
13. "Runnin' Down a Dream" by Tom Petty
14. "On the Road Again" by Willie Nelson
15. "Love Shack" by The B-52's
16. "Home" by Edward Sharpe and The Magnetic Zeros
17. "Route 66" by Chuck Berry
18. "America" by Simon and Garfunkel
19. "Take It Easy" by The Eagles
20. "Graceland" by Paul Simon
21. "Sweet Home Alabama" by Lynyrd Sknyrd
22. "Keep the Car Running" by Arcade Fire
23. "Where the Streets Have No Name" by U2
24. "Little Red Corvette" by Prince
25. "Born to Run" by Bruce Springsteen
All Star Volvo of Baton Rouge is a proud member of the All Star Automotive Group, and carries the Volvo line of products; which are some of the most reliable and dependable vehicles in the world. We serve the Baton Rouge and New Orleans areas as well as Denham Springs, Walker, Addis, Central, Baker, Prairieville, Gonzales, Hammond, Port Allen, Plaquemine, White Castle and Lafayette. If you are in the market for a Volvo, come by our dealership at 10101 Coursey Blvd in Baton Rouge and experience Sales, Parts and Service that is really All Star!
Let our team at
All Star Volvo of Baton Rouge
help you out! We have a large selection of new and used vehicles to choose from. There is something for everyone. Click
here
to see our inventory!