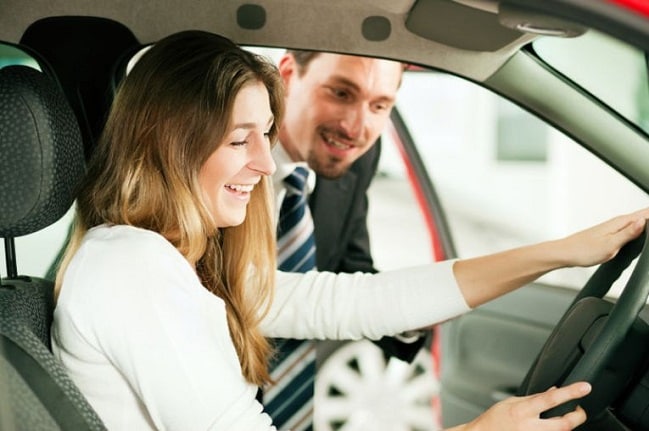 Getting a new vehicle is an exciting experience but it can also be a stressful one. The key to ensuring you have a positive car buying experience is making sure that you are well informed and confident in your decision. Taking a car for a test drive is one of the best ways to see if the vehicle you are interested in is the right fit for you and can satisfy all of your wants and needs.

Before you go to the dealership for your test drive do some research. Look up vehicle styles and models that you are interested in and that are in your price range. Narrow down your group to a handful of candidates that best suit your needs. Choose the ones you are interested in the most to see what you like the best. If you are stuck between two vehicle styles or models then test drive both of them and refine your options after. Be sure to keep in mind the features of the vehicle that are most important to you and take note of these during your test drive.
Once you have narrowed down your options, you are ready for your test drive.
Make sure the vehicle is a good fit. Before you start driving, adjust the seat and mirrors and check your visibility. Make sure you feel comfortable in the driver's seat and driving that vehicle. Also, take this time to examine the gauges and controls and make sure they are easy for you to use and read.
Drive on different terrains. Test the cars suspension, handling and speed on various types of roads and in turns. If you drive on the highway a lot, be sure to take the vehicle on the interstate or if you regularly drive in the mountains, find a hill and see how the car climbs. Your test drive should match your driving requirements and will give you a better picture of how the vehicle will perform in your day to day life.
Park it – parallel, back in and nose in. Check your visibility and test how the vehicle maneuvers when you perform these tasks. If the vehicle has parking aids this will allow you to test those out as well.
Ask about an extended test drives. This is when a dealership allows you to take the car home overnight or for a weekend. This is helpful once you have narrowed down your options and are ready to make a final decision.
Bring your stuff. Make sure there is enough room in the vehicle for things you travel with frequently. This is especially important for families and children with car-seats. Make sure there is enough room with the seats installed or for your family and passengers.
Take notes. Bring a notepad with you to write down what you liked and disliked immediately after the test drive so that you don't forget. It can be hard to be objective when you are excited about getting a new ride.
Take your time. Make sure you designate enough time to take your trial spin. Test drives usually last about 20 to 30 minutes. You want to be able to take your time and get as much information as possible. It may also be helpful for you to drive all of your potential candidates back to back on the same day so you can make a better comparison between your options.
Don't be afraid to ask questions. Ask your salesperson how to use key features of the vehicle and use your test drive to gain as much hands on information as possible. The more information you have the more confident you will be in making your final decision.
All Star Volvo of Baton Rouge is a proud member of the All Star Automotive Group, and carries the Volvo line of products; which are some of the most reliable and dependable vehicles in the world. We serve the Baton Rouge and New Orleans areas as well as Denham Springs, Walker, Addis, Central, Baker, Prairieville, Gonzales, Hammond, Port Allen, Plaquemine, White Castle and Lafayette. If you are in the market for a Volvo, come by our Dealership at 10101 Coursey Boulevard in Baton Rouge and experience Sales, Parts and Service that is really All Star!
Let our team at All Star Volvo of Baton Rouge help you out! We have a large selection of new and used vehicles to choose from. There is something for everyone. Click here to see our inventory!
Our staff is qualified and able to assist you with any vehicle needs, concerns or questions you might have. We assure you that you will not be disappointed in our team! Come on over to All Star Volvo of Baton Rouge to receive All-Star service!